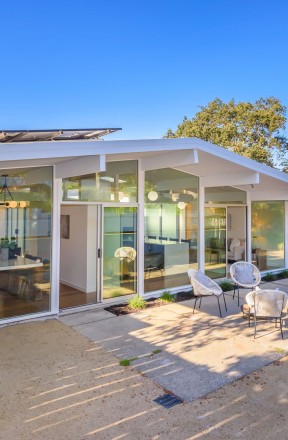 4 Beds
•

2 Baths

•

1687 SF

•

8064 SF Lot

•

Tesla Powerwall

•

Photovoltaic Solar Panels

•

Sold!

715 Butternut Dr, San Rafael, CA 94903

Sophisticated, sleek, & stylish define this incredible updated Eichler. A magazine worthy, meticulous and perfectly presented classic atrium-style mid-century gem, this home displays the best of this era's timeless appeal, enhanced with fresh modern finishes.  Be immediately impressed and delighted with the wonderful fenced in play area to the right of the driveway that even boasts a considerable play structure where young ones can be entertained for hours while being enchanted by the hillside views.  Enter the iconic atrium that introduces walls of opaque and clear glass that beautifully blur the distinction between inside and out.  Sliding glass doors effortlessly open and close to create a harmonious flow through the interior and exterior, a hallmark of this architectural style. The open floor plan features a living room with a striking floor-to-ceiling tile surround with windows on both sides that bring in leafy outlooks.  Move effortlessly into the dining area that opens directly to the inviting backyard that lives like an extension of the inside, making it ideal for entertaining.  This outside living space displays sensational terraced concrete retaining walls, a medley of flourishing plants and fruit trees, and artistically perforated white panels that punctuate the yard with style. Further up the sloped elevation, a second perforated metal panel provides a sensational visual element, adding a dramatic flair to the impeccably landscaped grounds.
The harmonious floor plan flows to the exquisite kitchen that showcases the best of contemporary culinary design with glossy light quartz counters, premium stainless appliances, abundant crisp white & rich gray cabinetry, and a gleaming gray glass backsplash for a distinctive touch. A lengthy peninsula island is excellent for casual dining and the seamlessly connected adjacent space can be used as a family room or eat-in breakfast area, or both!  The mid-century's quintessential globe pendant lights grace the ceilings and attractively illuminate the interior.
The sizable primary en suite offers open beam ceilings, a wall of glass with sliding doors that directly accesses the covered patio to easily extend relaxing activities to the outdoors.  Keep the doors open on warm evenings for soothing cooling breezes. The split primary bath is the epitome of polish with striking large seaglass green subway tiles in the walk-in shower "wet" area and a separate inset integrated trough sink vanity with 2 faucets. A custom walk-in closet with a full-length mirror, and coveted Elfa closet system can organize a fashionable wardrobe. The hallway is lined in opaque glass that makes moving through the space feel a bit magical. The additional 3 serene bedrooms are all at the end of the hall. The luminous lustered look continues in the second bathroom with a hip vessel sink, marble/mirror clad walls, marble-inspired tile flooring & centrally situated in the hall for enhanced comfort.  A conveniently placed laundry nook with cabinetry adds to the functionality of this thoughtful floor plan. 
The alluring backyard can accommodate a variety of activities and awaits being enjoyed year-round in San Rafael's temperate climate that makes it suitable for an enviable indoor/outdoor lifestyle. 
Do not miss this truly exceptional Eichler which pays homage to its valued architectural heritage while offering an updated aesthetic that beautifully blends with its timeless style.
4 bedrooms | 2 baths
Classic Atrium-style Eichler built in 1959
1,687 sq. ft | 8064 sq. ft lot
Wonderful front yard fenced play area with play structure & hillside views
Open atrium courtyard wrapped in planes of opaque & clear glass for effortless indoor/outdoor access
Open floor plan with white wood beam angled ceilings & iconic globe pendants
Living room with sleek fireplace with floor-to-ceiling tile surround
Dining area opens to inviting backyard that lives like an extension of the inside
Stunning chef's kitchen with gray & white cabinetry, polished quartz counters, premium stainless appliances, peninsula island with seating, & gleaming gray glass backsplash
Family room or eat-in breakfast area or both adjacent to kitchen
Primary en suite opens to the backyard & has walk-in closet with Elfa closet system, unique split bath with chic wet area with large seaglass subway tiles, mosaic tile floor, Toto washlet toilet & separate integrated trough vanity with 2 faucets
Hallway to 3 additional serene bedrooms lined in opaque glass windows that face the atrium
2nd sleek bathroom with hip vessel sink, marble tiled wall, marble-inspired flooring, Toto Washlet toilet, & opaque glass door that opens to side yard
Laundry nook with overhead cabinetry conveniently located near bedrooms
Exceptional sizable backyard with concrete terraces accented with metal bracing & artfully designed perforated white metal panels for a distinctive flair
1-car garage with atrium access & storage
Tesla Powerwall integrated battery system providing backup protection, detecting outages, and automatically recharges with sunlight 
Photovoltaic Solar Installation, 25 panels 7.88KWp peak power (owned, not leased, transfers to new owner)
Electric mini-split allowing individual control of heating & cooling with options to expand system
Conveniently located in Terra Linda close to Scotty's Market, Terra Linda Community Center, award-winning schools, coffee shops, Civic Center, Kaiser Permanente & more
Gas fireplace added with stucco on façade
Ecofriendly bamboo floors installed in 2013 and refinished 2022
Stainless steel kitchen appliances replaced including new refrigerator, microwave, and Bosch dishwasher 
Recently installed kitchen faucet and electric cooktop
Tesla Powerwall integrated battery system providing backup protection, detecting outages, and automatically recharges with sunlight 
Photovoltaic Solar Installation, 25 panels 7.88KWp peak power (owned, not leased, transfers to new owner)
Electric mini-split allowing individual control of heating and cooling with options to expand system
Energy efficient double paned thermal windows 
All sliding doors replaced
Water heater replaced
Cost saving hot water recirculation system installed 
Foam roof installed by Abril Roofing in 2013
Fireproof drywall added
Home fire sprinkler system installed
Upgraded electric panel, wall sconces, switches, & outlets throughout home
Electric subpanel & grounded outlets in garage & atrium added
Toto Washlet smart water efficient toilets added in bathrooms
Upgraded primary en-suite bathroom & shower
New closet doors added & new Elfa closet systems installed
Bedroom doors replaced
Recently upgraded lighting throughout home
Garage door replaced & garage finished with sheet rock & insulation
New fruit trees planted include 2 pomegranate trees, fig tree, mandarin tree, pear tree
Front space upgraded with new landscaping, play structure & fence
Drainage system installed in the side & backyard
Soil study completed for pool
THE SELLERS HAVE MADE NUMEROUS UPGRADES TO BENEFIT THE ENVIRONMENT ALONG WITH SAVING MONEY ON WATER AND ENERGY
NEW FOAM ROOF
Foam roofs are incredibly durable, dependable, and affordable to maintain. With rising energy costs foam roofs are an excellent choice due to their efficiency, often resulting in much lower energy bills. Foam roofs offer superior insulation, they reflect UV rays which result in less heating required in the winters, and less cooling in the summer. 715 Butternut has two layers of foam roof. Installed in 2013 by Abril Roofing.
ELECTRIC WALL SPLIT SYSTEM
The electric split system was installed in the family room for additional comfort for AC and heating. Split systems allow for individual control of temperature with options to expand the system to other parts of the house. This is an environmentally friendly system requiring less energy and lowers energy bills. Installed in 2018, this home also has radiant floors.
WATER EFFICIENT TOTO WASHLET TOILETS
Toto Washlet toilets are water-saving and much gentler for environment. Toto is known to have the best performance in the industry in water saving innovations. Washlet toilets reduce the amount of toilet paper and harsh cleaning chemicals used. Installed in 2013.
ECOFRIENDLY BAMBOO FLOORS
Easy to maintain and sustainable. Unlike traditional hardwood, bamboo can be harvested without replanting the root system developing in 5-7 years as opposed to 20 years maturity for oak. Sweeping, vacuuming and occasional mild floor cleaner is all that is needed to maintain bamboo floors. Over time, the floors can become scratched or discolored, bamboo floors are easy to sand down and apply a new seal protecting it from further damage. Installed in 2013, refinished 2022.
HOT WATER RECIRCULATION SYSTEM
Cost saving, energy efficient, reduces water waste and energy costs. Provides the comfort of quickly available hot water in all faucets while minimizing water waste waiting for hot water. Installed in 2018 by Amesos Plumbing.
PHOTOVOLTAIC SOLAR SYSTEM
Energy produced is green, clean, silent, without any harmful release of pollutants into the environment. Reduces energy bills providing more energy independence. Installed in 2018 by SolarCraft, owned and paid in full, included in sale.
ELECTRIC CAR OUTLET
Electric car chargers reduce carbon footprint, improve air quality, and offers a huge amenity to charge an electric car at home. As California heads into requiring all new vehicles sold to be electric or hybrid, having a home electric car outlet will be a necessity. Installed in 2018 and paid in full, included in sale.
TESLA POWERWALL BACKUP BATTERY
An integrated battery system providing back up protection, detecting outages, and automatically recharging with sunlight. Installed in 2020 by Infinity Energy Inc. and paid in full, included in sale. 
DUAL PANED THERMALLY BROKEN IN WINDOWS
These windows are one of the most energy efficient windows. They save money on energy bills and significantly improve comfort by minimizing the transfer of heat and cold thru the window frame. Installed in 2013 by Dotto glass.
 TESLA POWERWALL
 SECURITY
BACKUP PROTECTION
Powerwall is an integrated battery system that stores your solar energy for backup protection, so when the grid goes down your power stays on. Your system detects outages and automatically recharges with sunlight to keep your appliances running for days.
INDEPENDENCE
POWER EVERYTHING
The Powerwall is a compact home battery that reduces your reliance on the grid by storing your solar energy for use when the sun isn't shining. You can add additional Powerwall units to further lower your carbon footprint and prepare your home for power outages.
CONTROL
MONITOR AND OPTIMIZE
With the Tesla app, you can monitor your solar energy in real time. Set your preferences to optimize for energy independence, outage protection or savings. Control your system from anywhere with remote access and instant alerts.
DESIGN
MODERN AND COMPACT
With easy installation and a minimalist design, Powerwall complements a variety of home styles and solar systems. The compact, all-in-one construction features versatile mounting options for indoor or outdoor spaces.
Purchased in 2020
SOLAR PHOTOVOLTAIC PANELS
25 panels 7.88 kW peak power
SOLAR CELLS AKA PHOTOVOLTAIC CELLS
CONVERTS THE SUNLIGHT DIRECTLY TO ENERGY
A clean and green energy source that is low in maintenance, highly efficient, delivering maximum solar production year-round. Powered by Tesla Solar Inverter, the fully integrated system is safe and reliable.
SAVINGS
ELECTRICITY FOR LESS
Use solar energy to power your home and reduce your dependence on the grid. Take control of your monthly electricity bill.
DESIGN
SLEEK AND DURABLE
These solar panels are low-profile and durable — quietly converting sunlight to energy for decades to come. Integrated hardware and simple design achieve this by securing the panels close to your roof and to each other for a minimalist aesthetic.
POWERWALL
HOME BATTERY BACKUP
Your Powerwall can be bundled with solar, allowing you to generate clean energy and store it for use anytime—at night or during an outage.
Purchased in 2018.
Request A Showing or More Info: